California Country Organics
Regular price
Sale price
$25.00 USD
Unit price
per
Sale
Sold out
As requested, they are finally here!!  
Jesus Gone Get These Titties started on TikkyToks in August of 2022.  Moving into a new chapter of my life and needing additional spiritual guidance, I decided to go back to church after 20 years of being absent!  I looked in my closet and realized, all I had were dresses that would typically be frowned upon.  I always have my cleavage out! 
I knew my heart.  I knew my intentions.  So, I said, "Jesus Gone Get These Titties"!  I walked in the church, opened my heart and learned that the only thing required of me was me.  It had nothing to do with what I was wearing.  God cared about the content of my character. 
Every Sunday, Jesus Gone Get These Titties, and SO CAN YOU!  ON A SHIRT!  
All money spent goes towards women pulling their lives together to make themselves better. 
"If you can't figure out how to love yourself, figure out how to love someone else."
Share
View full details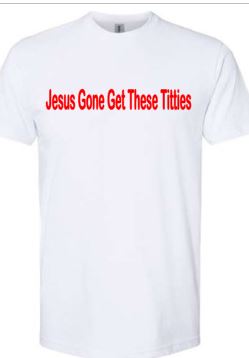 We Are BACK!
Whether you have known this entrepreneur/writer/entertainer as Tracey Kennedy, California Country Organics, CC Organics, Calibama, or Jesus Gone Get These Titties, you know I have been working to not only restore and rebuild myself, but CC Organics as well! Success starts with self love and value. I needed to step back and finally practice what I have been preaching all these years.
No matter which journey you're on in life, redefine what society says is for you. Keep looking towards the sky and never let go of what you hold dear. 
Love Yourself Truthfully, Deeply, Organically
And, if you can't figure out how to love yourself, figure out how to love someone else.
In The News
Meet Tracey Kennedy

In a series titled, "How To Unlock Emotional Intelligence", I take your on a journey of how I come to view life and the human connection.

On Capitol Hill

So many thanks to the Birmingham Business Journal for recognizing my speaking Engagement on Small Business Growth and Resilience in Washington, DC.!

Life & Work with Tracey Kennedy

Interview with VoyageATL on redefining myself.